28 Charming Seaside Italian Towns You'll Love
The natural coastal landscape ranges from white sand beaches to glorious craggy cliffs embedded with spectacular caves or grottoes. Speckled across this landscape are whitewashed and sherbet houses, fishing villages, medieval fortresses and castles and historic cathedrals. Italian villages were traditionally located in defensible positions like hilltops, or to take advantage of a port or cove. While each share characteristic qualities including quaintness, welcoming locals and terrific food, each has it's own particular flavor of delightful history and charm.
Many seaside towns may get crowded or touristy, especially during the high season in July and August, or on weekends, but we've included a few hidden treasures that are known only to Italians. You'll be able to find everything from history to nightclubs to a quiet beach retreat; the trouble is choosing which one to visit… let's all take a few months off and visit each of them!
1. Ponza Island
Only a few hours by ferry and train from Rome, with a laidback vibe, Ponza is idyllic and unpretentious. It's got quite a history though. According to legend, this island was named after Pontius Pilate (yes, that Pontius Pilate) because his family had a grotto there. Scholars also believe that it is the island of Aeaea from the Odyssey by Homer, home to the sorceress Circe. Archeologists have even found sunken Roman temples and the ruins of the houses of Nero Caesar from A.D. 29.
2. Sperlonga
If you head south from Rome towards Naples, you'll find Sperlonga, and you'll want to stay. It's pristine beaches and water, whitewashed houses, and winding streets are beyond picturesque. A World Wildlife Foundation reserve, the ruins of the Emperor Tiberius' villa and grotto, and an Archeological Museum offer diversion and culture for any hours you don't want to spend on the beach.
3. Castelsardo
Castelsardo brings together Bronze age Nuragic ruins with 14th century cathedrals, and an old town with a medieval fortress structure. Formerly both Spanish and Sardinian, the flavor of the town comes out during Easter Week folk celebrations. But if you simply want to wander it's streets, you'll have plenty to gaze, feast, and lounge upon.
4. Praiano
The best of all worlds – ancient architecture, art and culture – lays alongside incredibly beautiful beaches in Praiano. The town holds mazes of small lanes, pastel cottages, and is dotted with tiled votive shrines. It's a smaller town than its neighbors, Amalfi and Positano, offering visitors a quieter sojourn at less expensive prices. If you long for a beautiful harbor without the tourist crowds, this is the town for you.
5. Levanzo
Levanzo is the smallest of the three Egadi Islands, lying off the western coast of Sicily. With a population of only around 450 people and a total size of 2.5 miles, it's the perfect escape from the hustle and bustle of modernity. There's one major tourist sight, a cave with prehistoric art called the Grotta del Genovese. Otherwise, for entertainment you can explore the entire island through its extensive hiking trails, then cool off with a dip on a stunning beach.
6. Porto Ercole
Perhaps the only thing more perfect than Tuscany's rolling hills, medieval cities and cypress trees, is Tuscany's coastline. Porto Ercole is halfway between Florence and Rome; it's name means "Port Hercules." It's known for a lively nightlife scene, with posh restaurants, chic nightclubs and crowded pubs. This is the place to come if you want a little more drama and action rather than a simple sleepy seaside town.
7. Syracuse
Echoes of the ancient world still resonate in Syracuse, Sicily. From Greece, to Rome, Byzatines, Arabs and Normans, Sicily has a complicated history of conquest, blood, and drama. The cathedral itself is a recycled Greek temple, dating back to the 5th century Temple of Minerva. While you are there, stop by the Greek Theater and the stone quarries – also known as the Ear of Dioynsys.
8. Lipari Islands
The Aeolian Islands, of which Lipari is the largest, are just plain cool. They were formed by volcanic eruptions, combining thermal springs and mud baths with stunning obsidian quarries and medieval architecture. Lipari also has a bit of a dramatic history as well, including pirate attacks – most famously, Barbarossa burnt the town to the ground and fled in 1544, taking most of the town's female population with him. Now, it's a beautiful, restful retreat where you can relax in a spa, then tour the castle and cathedral before dining in a charming local restaurant.
9. Camogli
A two-hour drive from Milan leads to the dreamy fishing village of Camogli, making it one of Italy's best-kept secrets. Like it's close cousin, Cinque Terre, Camogli is joined to its neighbors with a footpath that runs along the hillside with a sharp drop to the bright sea below. Expect a quiet visit rather than a posh resort town and relish it as a step back into a simpler, slower age.
10. Manarola
Every town in Cinque Terre is a delight. Manarola is the oldest and second smallest, and (arguably) the most picturesque, as well as an UNESCO World Heritage site. Its colorful houses were built on black rock, overhanging a marina. Vineyards dot the landscape, and you can follow well-worn, dramatic paths along the cliff to visit the other towns in Cinque Terre.
11. Lido Beach
In case you get tired of the beauty of the historic city of Venice (is that possible?) there's Lido Beach: a seven-mile island strip of beach that was the first European bathing resort, and is still one of the most stunning. The pace and tone of Lido are quite different from the historic city, with wide, leafy residential areas, bustling cars, reasonably priced restaurants and lots of locals. The beaches are fine sand, and the water is shallow enough that you have to roam out over 100 feet before it's deep enough to swim – making it terrific for families.
12. Positano
A quaint fishing village on the Amalfi Coast, Positano might be one of the most gorgeous places in the world. It features a harbor, Moorish-style architecture, and pastel-colored houses nestled on mountainsides, rising above the sea. John Steinbeck, one of the town's residents in 1953, described it as "a dream place that isn't quite real when you are there and becomes beckoningly real after you have gone." The best solution is simply to never leave.
13. Capri Island
Five miles off the coast of Naples, Capri was once the favored vacation spot of the Roman emperors. Named after the herds of goats (capra) that once roamed freely, it is a stunning beauty of an island, quite reasonably immortalized in Ulysses as the home of the alluring sirens that beckoned to Jason. If one had to pick a "most-exquisite" feature on an island filled with them, it might be the Grotto Azzurra, or Blue Grotto, a turquoise lagoon of limestone caves where those Roman emperors once took the waters.
14. Sorrento
Overlooking the Bay of Naples, Sorrento is a popular destination, easily reached by train or ferry from Naples, Capri, Amalfi and Pompeii – and it's worth the trip. It doesn't have a beach, but what it does have is a picturesque town straddling a cliff overlooking the water. The rocky coast is dramatic, enticing, and the views will take your breath away.
15. La Maddalena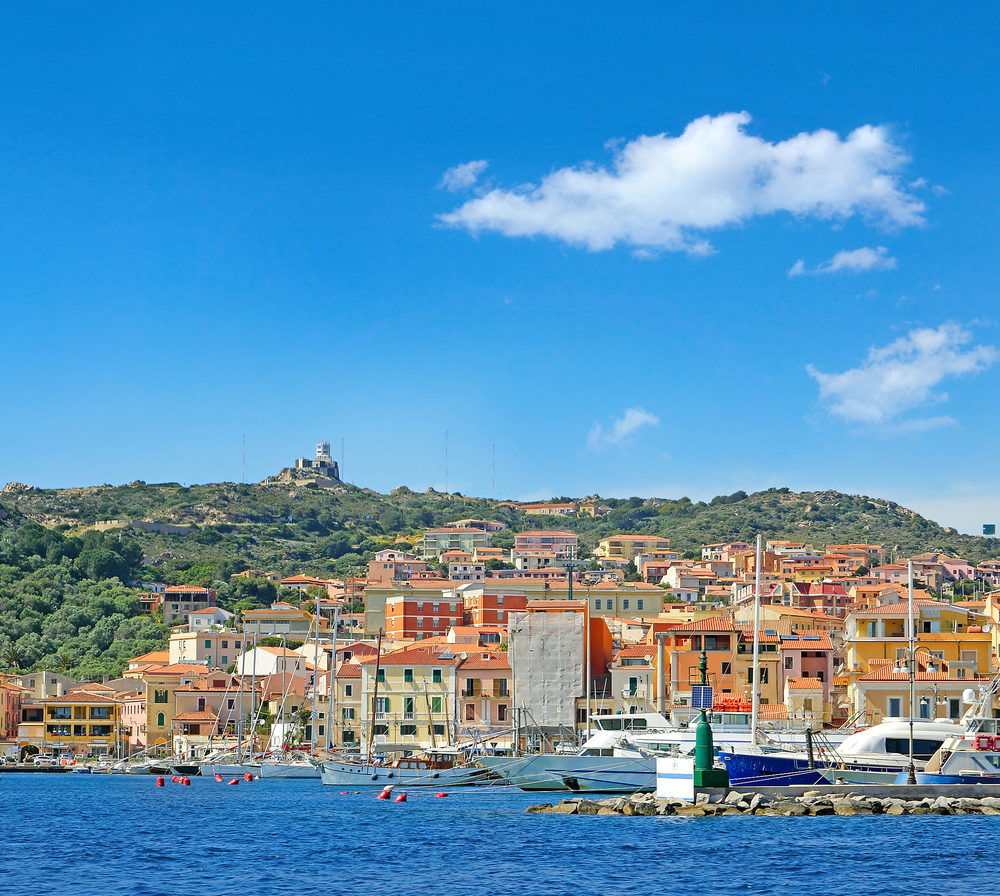 Maddalena is an archipelago, lying between Sardinia and Corsica, with La Maddalena its largest island of more than sixty. If you are looking for beaches, this is the place to come. The charming historic village rests on a cove with some of the world's loveliest stretches of sand. Granite cliffs have taken on strange shapes from years of exposure to water and wind, and each beach has a different color and texture of sand.
16. Aeolian Islands
We've already covered Lipari above, but the entire seven-island chain of the Aeolian Islands, located north of Sicily, are worth a visit. The water is as clear as the Bahamas, the views belong on postcards (and are on many), and the wining and dining is exceptional. They are lush, unspoiled treasures of both nature and hospitality – simply pick one and roam!
17. Cagliari
The combination of flamingoes and Italy is irresistible in Cagliari. The Poetto Beach is awash in pink as flamingoes stalk the marsh, where you can park under an umbrella, picnic and take in the view. The old city is called "Casteddu" or castle, and is worth the hike up the hill to clop down its cobbled streets.
18. Polignano a Mare
This tiny gem of a town has white-washed streets, blue waters, a beach, and a protective flank of limestone cliffs. It's famous for cliff diving (not for the inexperienced or faint of heart!), ice cream, and the classic Italian singer Domenico Modugno. Avoid the annual Red Bull cliff diving competition if you're looking for quiet, or seek it out to revel in the spectacle.
19. Cefalu
Cefalù (pronounced chef-a-loo, emphasizing the last syllable) fuses unpretentious charm with a spectacular cathedral. A sandy beach stretches alongside a modern town, speckled with historic buildings and featuring a medieval district. A huge crag called the Rocca looms over the town center; bring a large bottle of water and challenge yourself with the hike – the views and the ruins of the Temple of Diana will be well worth it.
20. Otranto
Otranto was actually originally Greek, and sided against the Romans in several wars. It's been ruled by Romans (those wars didn't go in Otranto's favor); Saracens; Ottomans; Normans; Byzantines and even Napoleon. Despite its ancient war torn past, the town today is peaceful and pristine, with a fantastic medieval fortress called Castello Aragonese. If you're looking for something a little macabre but fascinating, the cathedral houses the bones of 813 martyrs, displayed behind the altar in a glass case.
21. Alghero
Alghero has a Spanish air, thanks to time spent in the Middle Ages under the control of the Aragonese and the Catalanians. In fact, Alghero is the only place in Italy where the Catalan dialect is still spoken, as well as Italian. Characterized by whitewashed buildings with iron scrollwork, a charming series of "goat steps" leads to the Grotta di Nettuno. Take the zig-zagging path to gaze upon a cave filled with stalactites and stalagmites, and dotted with calm pools.
22. Portofino
Practically synonymous with La Dolce Vita, the town of Portofino on the Italian Riviera has always been filled with stars – Humphrey Bogart, Clark Gable, Elizabeth Taylor, and Sophia Loren have been replaced today with Madonna, Cate Blanchett, Heidi Klum and Gwyneth Paltrow. And no wonder – it's perhaps the most perfectly photogenic port in the Mediterranean. Expect some high-end dining and boutiques, as well as super-yachts alongside the 16th-century fortress and pastel houses.
23. Lampedusa
While the island of Lamepdusa belongs to Italy, it's in fact closer to Africa, floating just 70 miles off the shore of Tunisia. Its exotic past includes visits from the ancient Phoenians, Greeks, Romans and Arabs who all once used it as a maritime base. One of today's most alluring attractions is Rabbit Beach, a nature reserve where you can swim with dolphins and colorful tropical fish.
24. Castellammare del Golfo
If you're looking for an authentic Sicilian destination, Castellammare del Golfo is for you. Once a notorious Mafia town, today it is just busy enough to have a variety of restaurants and lodging, without being overwhelmed with tourist flotsam. The fishing village includes a castle (though it's really more of a stumpy fortress), discovered by a discreet set of steps through a stone doorway.
25. Stintino
Longing for white sand and crystal waters that cover the full range of blue? This is the place for you. Stintino was first a fishing village and then a penal colony. Now it's an exquisite tourist destination; however, if one had to be imprisoned, there are far, far worse places than this luscious beach town.
26. Ravello
The town of Ravello almost hovers above the Bay of Salerno; Andre Gide wrote that it's "closer to the sky than the sea." The French author isn't the only artist inspired by its beauty – its inhabitants have included Richard Wagner, Truman Capote, Virginia Woolf, M.C. Escher, Joan Mirò and Tennessee Williams. The town today is almost entirely supported by tourism, especially weddings, so expect a full infrastructure along with possibly a few crowds.
27. Numana
If Ravello is too touristy for you, go a little south to Numana, which is just as lovely and far more tranquil. Look for vineyards, rolling hills, and olive gardens similar to nearby Tuscany, but also alluring Adriatic views.
28. Santa Cesarea Terme
All the way down at the bottom of Italy's "boot," this charming retreat remains an Italian secret, practically unknown to foreign tourists. The lifestyle is as laidback as the scenery is breathtaking; this is the perfect place for a quiet getaway that feels truly, authentically local.
So start thinking now – picture yourself in the nightclubs of Porto Ercuro, or hiking the zigzag path of Artero to discover a cave filled with stalactites and stalagmites. Or touring the archeological sites of Ponza Island, or the castles of Cagliari and Lipari. Wherever you choose to explore, the seaside towns of Italy will welcome you with open arms, open wine bottles, and a lounge chair on the beach just for you.