Old shop in Malmo transformed into a day-to-day apartment
I think it's more than accurate to say that everyone dreams of living in a home that's out of the ordinary, but sometimes the answer is actually closer than we might think. A lot of people love big houses with huge gardens and amazing views but then again there's also a lot of people who love urban areas more than anything else so they're willing to invest all their life savings in finding the right placed that fits with this description.
Location is often compensated for by creativity and architects are sometimes replaced by someone's desire to chase a genuine idea. This  is how an old shop in the Swedish town of Malmo ended up as a day-to-day living apartment and the transformation suffered by this place is outstanding to say the least. Based on a reasonable budget and a few advantages found in every commercial space the apartment now has a complete new look and a warm feeling that makes you reconsider your current location. Maybe that's not necessarily the case but this place will get your attention for sure and below we got just enough proof for that.
One of the biggest advantages of turning a commercial place into a home is related to gaining a lot of living space and this apartment is no exception to that. By taking down the kitchen's door (not even sure there was one to begin with) the place gets even wider and apparently the owners decided to use a door only to their main bedroom instead of strictly defining all the rooms found in this house.  It's impossible not to notice the space while stepping inside and the feeling gets even warmer since one of the two entries goes through the kitchen. For other people this might seem odd but if we're talking about Northern Europe this is actually a common situation found in places that were destined to be houses as a matter of fact. Considered to be the family's entrance to the house guests are regularly invited to use the second door, in this case located inside the building and leading into the living room.
The kitchen gets a spotless minimalist design along with the rest of the place and the color of choice for this apartment is white with a few combinations of grey and black. Nothing too risky until now but it's fair to say that the furniture makes a huge difference for this place. Not only the owners managed to fit in everything you need to live a convenient life but they also made some amazing choices for this place. The cat nap is definitely an eye-catcher but it's also easy to spot other objects that make you curious, for example the pictures hanging on the living room walls or the big windows in the kitchen. Get this, the place also has a small children's room and the owners decided to make a personal print on this part of the house as well. The white floor in the room is definitely a big win but the bed doesn't fall off behind either.
Any child will find enough energy to play in this room and the gender doesn't really matter since the place is pretty much a mix. If the children won't find enough space for their energy to be fitted in a room they might as well step outside. When doing the same you get to see the biggest asset to this beautiful apartment: the beautiful area surrounding the building. It's easy to figure out how the owners came up with the idea of turning this place into their apartment since the whole area around the building has an amazing energy. The overall view doesn't disappoint either and judging by the toys left outside it's easy to figure out that you found the perfect place to live if you have a family while being in your 20's. Children playing outside is never a bad sign and if you have a child be sure he or she will make a lot of great friends in this amazing place.
A big beautiful park is also available nearby so if you like spending time outside you can do this without any effort whatsoever. The only down part of this project is related to the second lobby that doesn't seem to have a particular use outside of storing some books but the bathroom also has a really cold design and that's an odd move compared to the rest of the house. Just to do a creative exercise let's try and figure out a new design for the bathroom and a meaning for the small hallway that's pretty much left out in this apartment. Think Sweden, modern, stylish and innovative. For inspiration you can also check out the photo gallery but don't forget that we kept the best for last. The apartment is up for sale.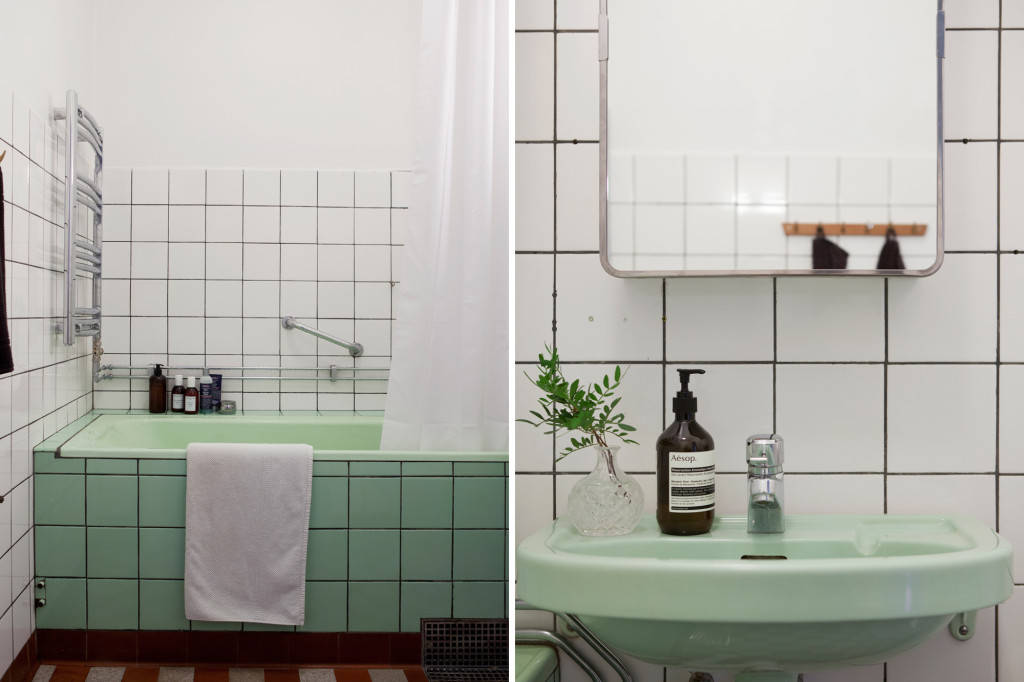 *Photos via Pinterest.