Cook In Color – 8 Fun Kitchen Color Schemes
The hearth has long been the heart of a home. Whether an outdoor camping fire, a medieval fireplace, or a fabulous flashy Viking professional stove, friends and family gather around the warmth of the kitchen.
No matter if you aspire to a chef-like setting or prefer to order in, you and your family and guests will be spending a lot of time in the kitchen. Taking it from bland to bombshell can shift the energy of your entire home, and provide a sanctuary to start and finish each day.
One of the best ways to create, feed and sustain a certain energy in a room is through color. Like reaching for a bowl of ice cream for comfort, or a cup of coffee to wake up, color can shift your mood. It's all around us and embedded in our vocabulary: we "feel blue," or "sunny," or "see red." Choosing the right kitchen color can shape your entire day from morning coffee to midnight snack.
Color can completely alter your experience of a space which sometimes makes it feel challenging to incorporate into your home. Too frequently, home owners shy away from making a commitment to color because it seems overwhelming and fraught with peril. Truly, though, there are few ways to go wrong with color and a million ways to get it right. Kitchen paint colors can range from basic to bright – there are no rules limiting kitchen color schemes!
Spend a little time with our rainbow assortment of inspiring kitchen color ideas. Feel for your internal response to each color. Imagine having your morning meal surrounded in blue, red, purple, yellow. Picture your family gathered around the counter in a range of colorful kitchens. What lifts your spirits, or settles your mind? That's the power of color.
Tangled Up In Blue
Blue has an elemental versatility tied to its evocation of sky and water. Soft shades bring calm, and clear shades freshness. Blue has been shown to lower blood pressure and heart rate, creating a tranquil atmosphere to start and end each day. For a punch of energy, turn to bold cobalts and sapphires. Or blend your blues to create a soothing symphony that echoes the shifting colors of the sea. It can be one of the most modern kitchen colors, while staying classically cool.
This is a perfect example of two powerful shades of blue blending together. The white backdrop lets each shade shine. Shift your gaze from the cobalt to the softer blue and notice the difference it evokes.
Using a soft blue as a base color brings a space together gently, evoking a quiet blue sky or the clear depths of the Mediterranean. It acts as a perfect backdrop for a range of woods, granites and appliances, and feels both soothing and inviting.
Classic navy highlights the sharp, crisp lines of this kitchen. It can feel nautical, or French country when paired with white. This is the epitome of a true blue – simple, calm, but enlivening.
Blue shifts easily from classic to sharply modern in shades of cobalt, or bright clear blue. Note the different feel when using blue for cabinetry and furniture as opposed to making it the background wall color.
Fusing blue with grey has a soft but dramatic effect – like a cloudy sky just before rain, or the sea leading up to a storm. Incorporating the same shade into counter tops and walls pulls the room together, and note how the shades of white in the room still carry an undercurrent of grey.
Tiny splashes of blue can have a huge effect. Unexpected accents can keep a room from feeling overwhelming sterile, bringing a dash of contrast and warmth.
Green, Green Grass of Home
The natural world, with its emerald carpet of grass and bright shoots of spring ties green to growth and renewal. It has the versatility of an entire landscape, whether mossy or vibrant, deep forest or sharp celery. A green kitchen can help you find renewal each time you cross the threshold. The best paint colors for kitchens inspire connection and make you feel lighter each time you cross the threshold. To help find your green, take a mental stroll through the woods and track which shade sparks a response in you. Then visualize it in your space, using our collection as inspiration and guide.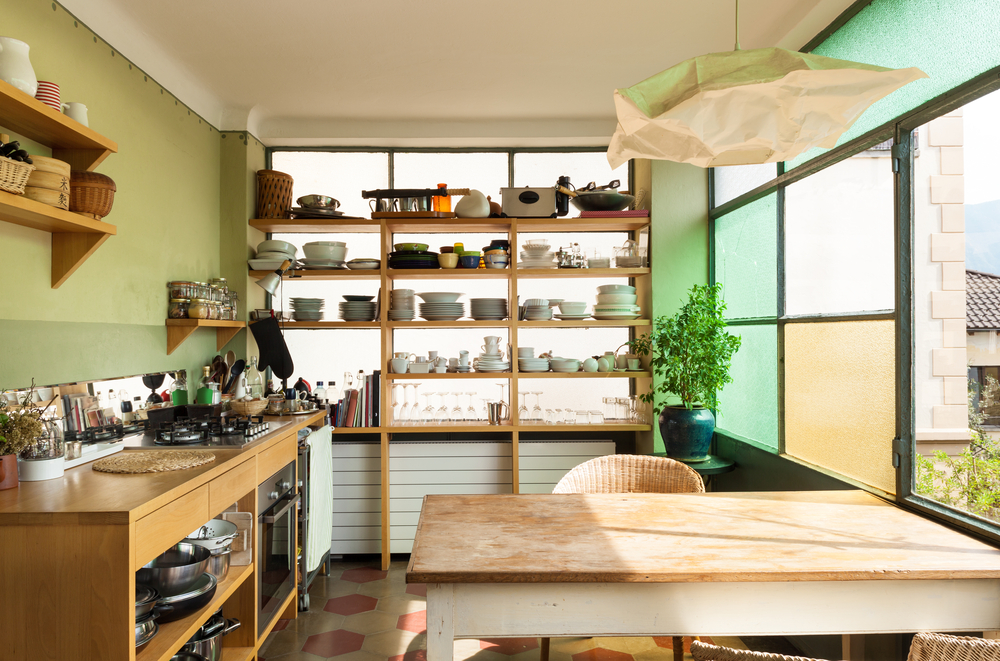 Mixing greens occurs everywhere in nature, and looks incredible in your home. Shades of celery, mint, and emerald can co-exist seamlessly, yielding an organic, cozy feel.
In contrast, a bright yellow-green accent brings both a breath of fresh air and a modern flair to an otherwise classic room. Keep the shade lively to invigorate your day, or tone it down for a gentler flow.
Look at this in the context of the previous photo – these two kitchen color ideas where a green backsplash is replaced with an aquamarine shade are a perfect example of taking the same basic element to create an entirely different mood. The tiles here are like staring into the bottom of a clear pool, and feel soothing as well as lively.
Here, green offsets a darker base color to make the space unique and interesting. It challenges the plainness of the layout and shows a sense of flair in the midst of a streamlined, modern space.
Mint green and yellow are whimsical, homey and charming. It's almost retro, but with a lighthearted sense of timelessness. Walking into this kitchen each morning would guarantee starting the day with a smile which is a solid sign of you've found the best color for kitchens.
Bold shades of green fuse perfectly with the contrast of black and white, bringing together contrasting kitchen color schemes. Framing a window with a green accent wall also creates a transition from the interior space to the external view – your eye moves smoothly from manmade to natural world, ushered through the threshold by an inviting green.
Evolution Orange
When you start to really explore kitchen color ideas, let yourself step outside your comfort zone: consider Orange. Orange brings the vibrancy of sunsets and sunrises, the juiciness of citrus, and the coziness of a winter fire. It can be intimidating, but orange can bring freshness and calm as well as energy and liveliness. Picture cool shades of apricot or the warmth of terra cotta. Think of orange as the child of red and yellow – it gives the energy and excitement or red along with the welcoming friendliness of yellow. Spend a little time with our gallery of inspiration and let yourself enjoy the possibilities of orange.
A single orange piece is a terrific way to test the waters. The orange table provides focus to the room.  It also contrasts beautiful with the blue water seen through the window, and is complemented by the fiery cabinetry. This is a smart, polished use of color in the midst of simplicity.
Want to warm up a space in a flash? Gentle orange cabinetry is unexpected, but soothing. It blends beautifully with the slightly buttery white of the walls, and is grounded by the contrasting dark wood.
Kitchen paint ideas don't have to be limited to the walls. Brighter shades of orange playfully bring modern and retro together into a kitchen that could be in Epcot Center, the Jetsons, or any 21st century home. The blue-gray backsplash and paint quiets the orange without dimming its sense of fun.
Warm terra cotta oranges can be both rustic and sleek. The warmth of this accent wall brings together the clean white of the cabinetry and the dark wood into one inviting space.
Longing for something spacious but comforting? Soft orange warms up a large space without diminishing the light, airy quality of the room.
Add a coppery sheen to orange and it becomes both charming and exotic. The wavy lines of the counters, and contrasting shiny apricot and cool blue results in an incredibly unique space that incorporates both style and fun.
Mellow Yellow
Yellow is one of the best paint colors for kitchens. It adds sunniness, optimism and clarity to your kitchen and your life. It stimulates the nervous system in its brighter variations, but a muted shade can be soothing and calm. Yellow can have the force of natural sunlight flooding the room, or the gentleness of cozy candlelight. It can also be modern, primary and powerful. Envision dashes of yellow enlivening your kitchen, or an entire sunlit wash of color and feel your spirits lift!
Simple, primary yellow with white is clean, modern and at the same time cheerful. It takes the sparseness of the space and brings it to life!
Matching sunny yellow with dark wood similarly can change the entire tone of a room. In this case, rather than softening sparseness, the yellow brightens what would otherwise be a subdued space.
While this kitchen pairs a similar bright yellow and darker wood, it does so in a more modern way. The trim lines of the cabinetry and contrasting steel grey backsplash and countertops plants the yellow firmly in an almost industrial setting.
Looking for classic romanticism? Yellow is perfect for a country kitchen that hearkens back to a simpler, yet timeless, age.
Finally, yellow and black are brilliantly sophisticated together. The myriad colors of the backsplash soften the look slightly, but the polished hyper-modern chairs keep it clean.
Pink Houses & Purple Haze
Colors for kitchen walls can borrow from unexpected palettes and be surprisingly effective. Pink and purple can be dramatic or soft – picture the range to be had from a soft pastel pink to royal purple or a hot fuchsia. Different tones and shades can take a space from romantic to streamlined and modern. Purple is associated with meditation and contemplation, and pink with both nurturing and youth. Whether used as an accent or a lush base color, these colors make a statement, and pair well with a huge variety of other shades.
Scattering purple accents through an otherwise simple space gives personality and warmth to the basic contrast of black and white. Adding the orchid and placemats are the perfect way to pull together the purple chairs and backsplash into a coherent whole.
Lavender can be sophisticated as well a soft. Used as a backsplash, it warms up the room and is grounded by the black accents.
Pink can envelope you in welcoming warmth, adding a rosy glow to every day. Featuring it as an accent is one of our more unusual kitchen wall color ideas, but the careful choice of two shades of pink, offset by a light yellow, keep it from being overwhelming while maintaining softness.
Deep aubergine or an almost crimson purple brings power to the shade. This is a strong, bold look that could as easily be paired with black as white.
For pure cheeriness, rosy pink kitchen wall colors can't be beat! Note that the cabinetry is two different shades of grey, which adds sophistication. White is used just as an accent, making the pink pop.
Red, Red Wine
Red embodies passion, romance, fire…. and isn't for the faint of heart. As a design tool, it's one of those colors for kitchens that heighten the senses, and can feel rustic, classic, traditional or contemporary. Add a touch of red to spark a room, or create a powerful background by using it as a base color. Red comes in endless shades, from crimson to fire engine, so experiment with the possibilities – be bold!
Bright red, stark white, and rich black exude sophistication. There's a sparse geometry to this space that makes it powerful, along with the clarity of each color used.
Red can be playful as well as powerful. The multi-colored backsplash bring whimsy, anchored by the bright clear red of the cabinets. Note how the cabinet handles bring the two elements together.
Never underestimate the richness of red. A deep crimson warms up a white kitchen, bringing luxury into an otherwise simple space.
Don't be afraid of mixing reds! Fire engine and cherry sparkle against basic black and white while the patterned cabinets lend charm.
A simple red accent – in this case, the unexpected addition of red cabinets – is a surefire way to make a room pop. Without the red, this kitchen would be almost too plain. With it, it shows brilliance.
The light cabinetry and floor here act as an interesting base to a deep, warm crimson. The wood lightens the feel of the red, and in turn, the red brings richness. Get creative in pairing your light and dark shades; you'll be amazed by the magic you can achieve.
Taking red as your base kitchen color is a bold move, and can yield amazing results. The floor and countertops echo each other in a soothing gray, while the contrasting wood makes the space even more modern.
That Old Black Magic
Black is in fact all colors, totally absorbing light to create depth, sophistication and contrast. Ignore the stereotype that dark colors or black will make a room feel smaller. Instead, look to how it can serve as a universal, powerful base color or a classic accent. It will look stylish and strong, and complement a range of woods, granite and tile.  Color ideas for kitchens too frequently sidestep black but take a chance on it; it will surprise you with its versatility. As design grows bolder and more modern, we expect it to evolve into one of the most popular kitchen colors.
Black, white, and red work together. They just do. It's all a matter of choosing which will be your base, secondary and accent colors of the magic trio. In this case, black pulls the room together and is leavened by white and a dash of bright red.
Black can be natural as well as sophisticated. Here, pairing it with grey-brown textured walls, and a carefully warm shade of white-touched-with-beige evokes a tranquil cave or grotto.
Black can also be rustic! Brick red backsplash tiles pulls the black towards country charm, especially in concert with white ceiling beams and an amazing view.
Here, black maintains its sophisticated bent, but the curved lamps and lace placemats bring femininity to what could otherwise be a sparse color palette.
A Whiter Shade of Pale
Just as black absorbs all light, white reflects it. White can feel pristine, effortless, or sleek. If you seek surgically clean lines in your kitchen, white is for you. But if you desire romance, or sparkle, white can do that too. There is a full range of white shades, just as for any other color, spreading from warm creams to sharp pearlescent oyster.  White is one of the most popular kitchen colors because there is a white for any purpose if you allow yourself a little scope for imagination.
Clean, classic, fantastic – white here serves to let your eyes rest, and highlights the beautiful wood floors, and gray brick walls.
For pristine, white is the way to go. A pure white kitchen, accented with stainless steel and gray, is positively refreshing in its sharp lines.
Add a few accent touches, and the basic white becomes warm while maintaining its pristine flavor. Notice how the warm wood floors, lights and daffodils warm the space, while the vision of green through the window brings the natural world in.
Here, the natural world is brought in by the simple addition of a plant, and the white is warmed with undertones of beige.
White can be warmed even more with tints of rose to create a space that is simple but still lush and romantic. The yellow of the floor adds cheerful contrast and keeps the room grounded.
Finally, white can act as the backdrop for any other drama you want to bring to a room. The green cabinets, dark wood floor and table, and red wall seen through the doorway all pop because of the white. White brings out the best in any other color it is set against.
Hopefully, you found some inspiration in our color ideas for kitchens Now, look at your kitchen through fresh eyes. Let it wash in blue, be brightened with yellow, drawn into luxury through reds or black. What do you respond to? What draws you into the room? Allow yourself to be invigorated, soothed, challenged by color; your life – and home! – will never be the same.