18 Classic Homestyles With Quaint Charm
Domestic architecture is vast. It must adapt to its environment and either conform to or create the style that the owner wishes to be enveloped in. It is also, perhaps, the form of architecture that influences us the most.
Depending on your lifestyle, you may spend more or less time in your home than others, but your home is always where you end up coming back to, and as such it has a pretty large footprint in your life. Here we have collected some of the most interesting examples of domestic architecture of the past, categorized into geographical regions for your enjoyment. Whether you're looking for inspiration in your next home, or simply looking out of curiosity, may this article quench your desires and leave you inspired.
Europe
First we visit homes from the European regions, with six examples of traditional architecture and heritage all wrapped into one. While there are many more than six types of homes I could mention here, these might just be the most interesting.
Chalet – Alpine region
If you're a skier, you've probably heard of a Chalet. Traditionally, they are made almost entirely of wood and hold a gently sloping roof atop with wide, sturdy eaves. Nowadays, ski resorts tend to refer to their resort homes as chalets, since they generally resemble the functions and earthy nature of traditional designs.
Geodesic dome – Norway & Austria
Here's one that you don't see often; it's the geodesic dome, which originated during the WWI era and was later on developed by R Buckminster Fuller. They have since been used for a variety of functions, such as greenhouses and storage silos, but once in a blue moon do you find a well maintained geodesic home, since they are typically constructed by the home owners themselves and not mass produced.
Hallhouse – The UK
One from the history books, the hallhouse hasn't seen much action since the Middle Ages when it was traditionally used. Since it was built primarily for the Lords of the surrounding Manor, they were certainly among the tops homes to be had. Construction of a typical hallhouse typically consists of a timber framework with wattle and daub or clay used as infill.
Izba – Russia
The Izba is a traditional Russian dwelling from the countryside that acted as the living quarters for conventional Russian farmsteads. Typical construction was a log house built with pine tree and filled in with river clay.
Roundhouse – British Isles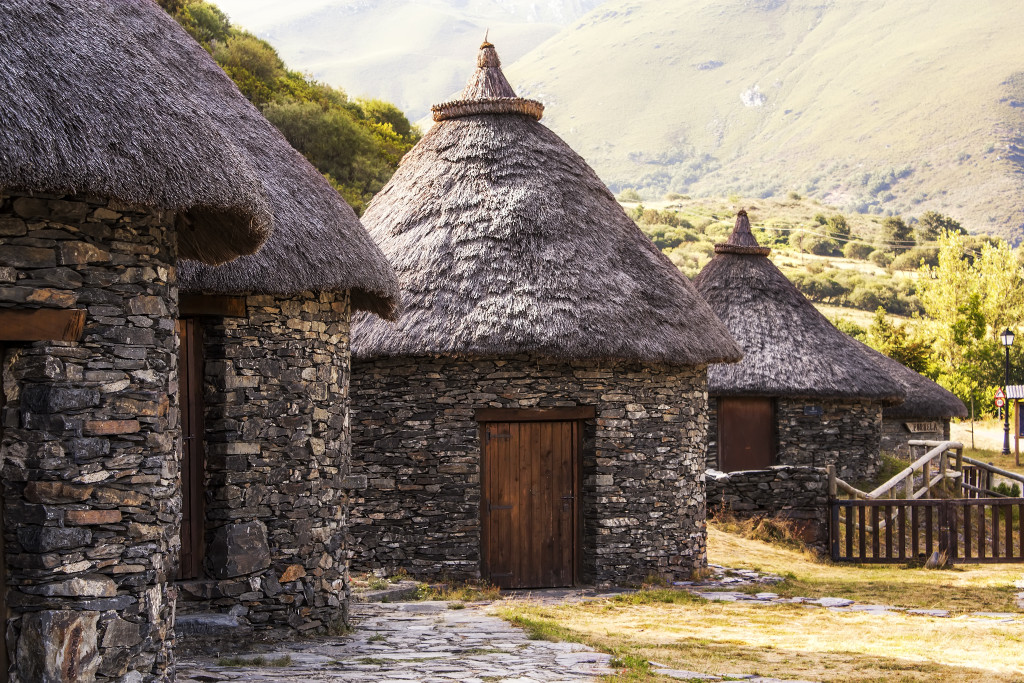 Roundhouses come in a variety of shapes and sizes – shape referring more to the angle and size of the thatch roof, and size referring to how tall the walls are and how wide the circumference is. Roundhouses originated in Western Europe, but you can find them in the histories of many ancient civilizations.
The roundhouses you see above are from Celtic ruins in Leon, Spain, built with stone and a traditional thatch roof. However, it was just as common to build the walls out of wood support posts filled in with wattle and daub.
Trullo – Apulia, Italy
The trullo was a particularly popular building in specific regions of Apulia, Italy, and gained prominence in the 19th century. There are still entire districts filled with trulli homes to this day. Originally, these buildings were created as temporary shelters from the field. The construction is made primarily of a few varieties and sizes of stone, incorporating 1-2 layers in both the roof and sometimes the walls as well.
America & Canada
Next up we visit styles found in the histories of America and Canada. Being that these regions of the world developed much later than some of our previous examples, these homes may seem a bit more modern. Regardless, they are still just as telling to the environments in which they were brought up.
A-frame – America
The A-Frame home didn't necessarily originate in America, but it was at the very least brought back into style there by Andrew Geller in 1955. If you couldn't guess the characterizing feature, it's the steep, low reaching roof that comes to a point thus resembling the letter "A."
While not typically constructed within the cookie cutter neighborhoods we're plagued with today, the A-Frame style manages to find it's way into all sorts of privately commissioned homes around the country.
Cape Cod – New England, America
The Cape Cod home originated during the 17th century, and it certainly managed to leave a mark. You can find these homes, or designs very similar, all over the place – doesn't it almost remind you of the typical American Dream home? That's why.
These homes inherited much functional influence from the cold-climate homes of New England. You'll notice in the above photo the centrally placed chimney as well as the generally low-ceiling design to maintain the heat.
Chattel house – West Indies, Barbados
If you thought your mobile home was cool, I think the folks in Barbados have you beat here. The word "Chattel" actually means "movable property" to the people of Barbados, and that's exactly what these homes were designed to be. They were built for the working class citizens and were often brightly built just like the one pictured above.
Conch house – Key West, Florida
Key West is a picture-perfect beach land, and as such, the home style there can often be quite luxurious and breezy. While the homes pictured above sit on the more budget-friendly range of the spectrum (relatively speaking), they still include the typical features.
A few such examples include the shaded porch, vented shutters and the lovely bright colors, almost characteristic to the area. Another nice feature is the slight elevation from the ground, which allows cool air to circulate beneath the floors and also provides a basic level of protection against floods.
Octagon house – North America & Canada
The Octagon house came and went, but it did have a run of popularity in the 1850s. Key characteristics included the octagonal floor plan, somewhat flat roof, and the veranda that would stretch all the way around the house.
Having an octagonal floor plan made for an interesting yet simple layout of rooms on the inside. The internal layouts typically broke the space down into squares and triangles – a basic example of this would be four square rooms sitting in the shape of a cross (with a common area in the middle) and smaller triangular areas in between the square rooms, either branching out from the square rooms as extra bedroom space, or acting as entirely separate spaces such as bathrooms or pantries.
Sears catalogue home – America
You all remember the Sears catalogues, right? Did you know that you could buy homes from them too? Back in Sears' prime, they had everything! The Sears home catalogue, in fact, had a variety of home styles to choose from, so this is less of a particular single home style and more of a brand of homes that are no longer built, thus claiming their place in the history books. They were kit houses, and between the years of 1908 and 1940, they reportedly built over 70,000.
Shotgun house – New Orleans, Louisiana
Shotgun houses were at one point the interest of the middle class in New Orleans, but in the mid 20th century they evolved into the symbol of poverty. Normally no wider than 12 feet across, most of the space is arranged in a single direction, making for a unique living style not typically found in modern home building.
Bay-and-gable / Annex style – Toronto, Canada
The Bay and Gable style is a classic, often still built in a variety of forms today. They originated in Canada and are quite prominent still throughout the older parts of Toronto. Between the 19th and 20th century, this was among the most common of houses built. It provided a well laid out, light-filled space for the middle class with form that imitated Victorian Gothic Revival architecture – a style that was of good taste in that era.
Asia
Here we have the more oriental styles of the world. With their deep sense of culture and unique living environments, the architecture of Asia provides perhaps some of the most interesting and unique examples on the list.
Hanok – Korea
From Korea, we have the Hanok; with prioritized consideration given to house position relative to the surrounding land and objects, these traditional homes are intended to be ideal in every way. The interiors follow suit, using strategic design to ensure optimal comfort in both the hottest and coldest months, as well as protection from earthquakes.
Primary characteristics of these homes include the all-natural and raw materials that stay close to the original construction, as well as the varying styles of traditional architecture that have been passed down for centuries.
Minka – Japan
The Minka is a house made for the common people, and is used today and traditionally by a variety of villagers from the lower and middle classes. It roughly resembles the general A-frame structure from our Americas list, but has a much different construction and list of materials.
Minkas are very simple homes that all share a vary simple structure, but depending on the region and application, they can come in various shapes, styles, and sizes.
Antarctica & Australia
And now we reach the corners of the map, with our final two home styles. While you don't see these everyday, it certainly doesn't make them rare.
Igloo – Antarctica
In the coldest corner we have the Igloos of Antarctic. Due to the wonderful insulating properties of snow, The Inuit people were able to create simple, easy to build shelters with the one resource available to them every direction they turned.
Something that may surprise some people is that igloos are used today just as much as they ever were. A key fact here, mind you, is that they have always been used in a temporary fashion – much like a tent – and never had much place outside of the long expeditions they were typically used on.
Queenslander – Australia Queensland
Last but not least, we have the Queenslander, on the hotter corner of the map. Originally developed in the 1840s, these homes have been developed and used ever since. The key feature here is that the entire home is very much raised from the ground. This not only aids in cooling the floors from below for those hot Australia heat waves, but also provides protection against termites and other pests that thrive in Australia's ecosystem.
If you enjoyed today's list, be sure to explore the rest of our articles, just for fun.