Need Art? Check These 10 Sites For Curated, Affordable Prints
One plausible and ever-growing solution is the internet, but results may vary depending on the websites you manage to land on. In order to help you with your journey into the world of affordable online art, we decided to gather the following 10 websites with good reputations, wide selections, AND pleasant prices. Happy shopping!
Leif Shop
Based on a small shop in New York, Leif Store is full with amazing home goods and affordable art ready to be delivered to you.  The items are all curated into categories for a simple searching and prices go as low as $25.
The website is also neat with a nice experience when you browse on it, so if you're looking to decorate or to redecorate your house, definitely take a peak here.
Little Paper Planes

Little Paper Planes is another website you can acquire art from, but this time we're talking about a community of artists looking to promote and sell their work. That's right – it's the local-artist experience combined with online convenience. Rock on, internet. Among the items, you will find paintings, sculptures and photographs with prices between $15 and a few hundred dollars.
If you like browsing through hundreds and hundreds of unique art pieces to find gold, this is the right place to be.
Tappan Collective
Based on similar principles as Little Paper Planes, Tappan Collective is based on emerging artists looking to connect with collectors for marketing their craft. The price for an exclusive print can go under $20 sometimes and there's plenty of work to browse around. Click here to see for yourself. You get to support emerging art, receive the original pieces, and stay on budget. That's a pretty cool opportunity.
Minted
Minted managed to float in our top 5 for a long time. The website sells limited prints from independent artists. Prices are very low most of the time and, depending when you are reading this, you might be able to swing free shipping on your first purchase. Definitely worth checking out if you're looking to buy some catchy prints.
Sebastian Foster
Sebastian Foster is a gallery located in Austin, Texas and their website deals with limited edition prints from various  artists based worldwide. That's right, WORLDwide. Prices start at $25 and go up from there. This is the place to go if you're interested in some real cultural variety and prints worth bragging about. Because let's face it – not all prints are equal, especially in the world of affordable art.
The gallery definitely has good tastes when it comes to selecting their artwork and there's a large variety of items to chose from here.
Thumbtack Press
This is one of the oldest websites designated to selling digital prints, illustration and comics online. It's biggest variation from the from the rest of this list is the artists. We're dealing with established artists here, not just the freshies. The prices start from $19.99 and just by taking a look at the online store, you'll see there's a lot of themes to choose from. You can search for art based on size, artists, genre, subject, color or keyword. Talk about freedom of choice.
The Animal Print Shop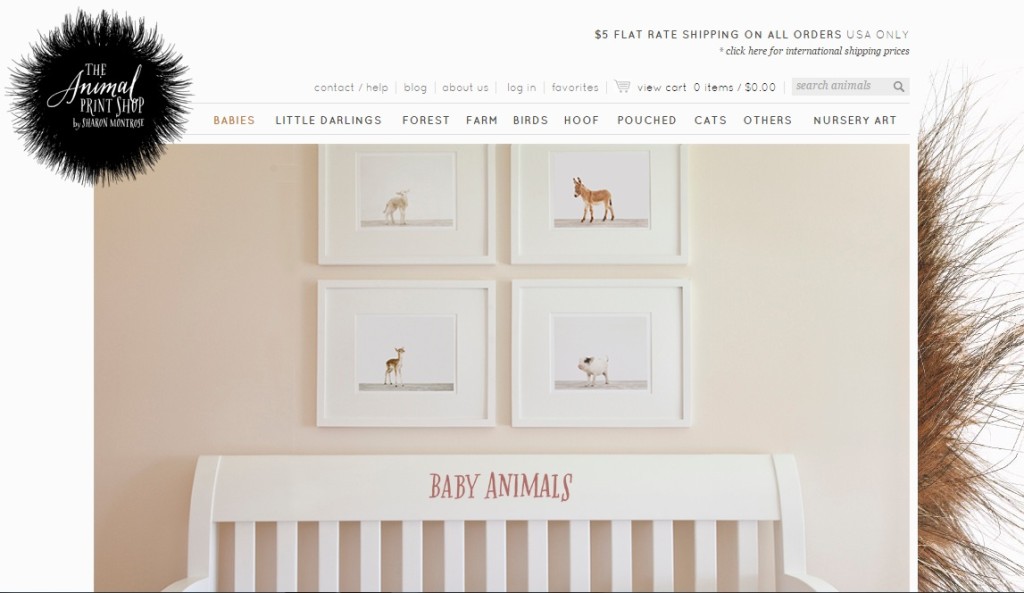 The Animal Print Shop is a themed gallery created by photographer Sharon Montrose. It's purpose and calling, finding and selling animal-themed art. We're speaking primarily to the animal lovers out there; go absolutely crazy. For an art site themed specifically to one subject, there is certainly some great variety to chose from. Just from a quick glance around, you can easily tell the website is a win for parents. You know, kids and their animals. It's a jackpot, folks. Just saying.
You can also choose your piece to be framed or unframed and most prices usually sit around the $25 area.
Society 6
Society 6 is one of the best places online to look for art. Even if you're not interested in purchasing anything, the quality of the screen-printed items will probably make you reconsider it. Good luck, window shoppers. This is probably one of our favorite websites to browse around when looking for new decor. The shop also includes pieces from artists such as Wendy Macnaughton, Marc Johns, Karen Hallion and others, if you are familiar with them.
The prices are incredible with authentic items being sold for as low as $15.50 and a Home Decor section including 100 pages full of *pillows*. That's right; *pillows*. Signing up for the newsletter comes with %10 off from your first purchase, so don't miss out!
Tiny Showcase
Things take a considerable turn with Tiny Showcase. Tiny is a forum dedicated to promoting upcoming artists and their work. You can visit the website to purchase limited edition pieces. On top of that, a percentage of what you pay actually goes to a charity of your choice.
Prints without a frame go for $25 with t-shirts and collections available at the time of publishing this article.
Zatista
Zatista is owned by Ebay executives who decided to invest a site excursively meant for authentic art. Makes you wonder just how much inauthentic art is sold through eBay day to day… Crazy thought, right?
The prices can go up to $850, but they can also go as low as $55 with a large variety to chose from that is truly incredible. A bunch of big publications co-signed this place, so if you're looking for original, carefully curated art, you should definitely make a stop right here.
That concludes the list for now! If you enjoyed the read, were inspired, or had any violent reactions… Well, the comment board is open below. Go on and hack away at your keyboard; we want to hear from you. Feel free to give us suggestions for future posts as well, and we might give them a whirl!